Warning: Undefined array key "src" in /home/u135054751/domains/newscharotar.com/public_html/wp-content/plugins/featured-image-from-url/includes/thumbnail.php on line 124

ZTE Malaysia has introduced the Blade V40 Design mid-range phone.
Slated to be the affordable entry into ZTE's Blade V40 lineup, the Blade V40 Design sports some spec one would usually expect from an entry-level smartphone, and some that you wouldn't.
On the surface, you'll find a 6.6" inch Full HD+ display, with a teardrop front facing camera right at the top. Its thickness of 7.98mm makes it relatively comfortable to hold in the hand, and easy to slip into your pocket. On the back you'll find the triple camera setup, with a 50MP main camera.
It comes with 128GB base storage, and 6GB of dynamic RAM that allows you to add 5GB more through the phone's ROM. This makes it a pretty killer multitasking machine for all your productivity needs. The 4500mAh battery is also more than capable of handling a full day's workload.
The phone will come in 2 colour options, an eye-catching Sky Blue option and a stealthier Starry Black variant. The standout feature of the phone is probably its NFC feature, which allows you to interact with all manners of devices and services, including topping up your Touch 'N Go NFC card.
The phone will be priced at RM649, and pre-ordering the phone will also score you RM100 worth of goodies, including a ZTE moveable table lamp, ZTE 3 in 1 USB cable, TPU casing, and a tempered glass.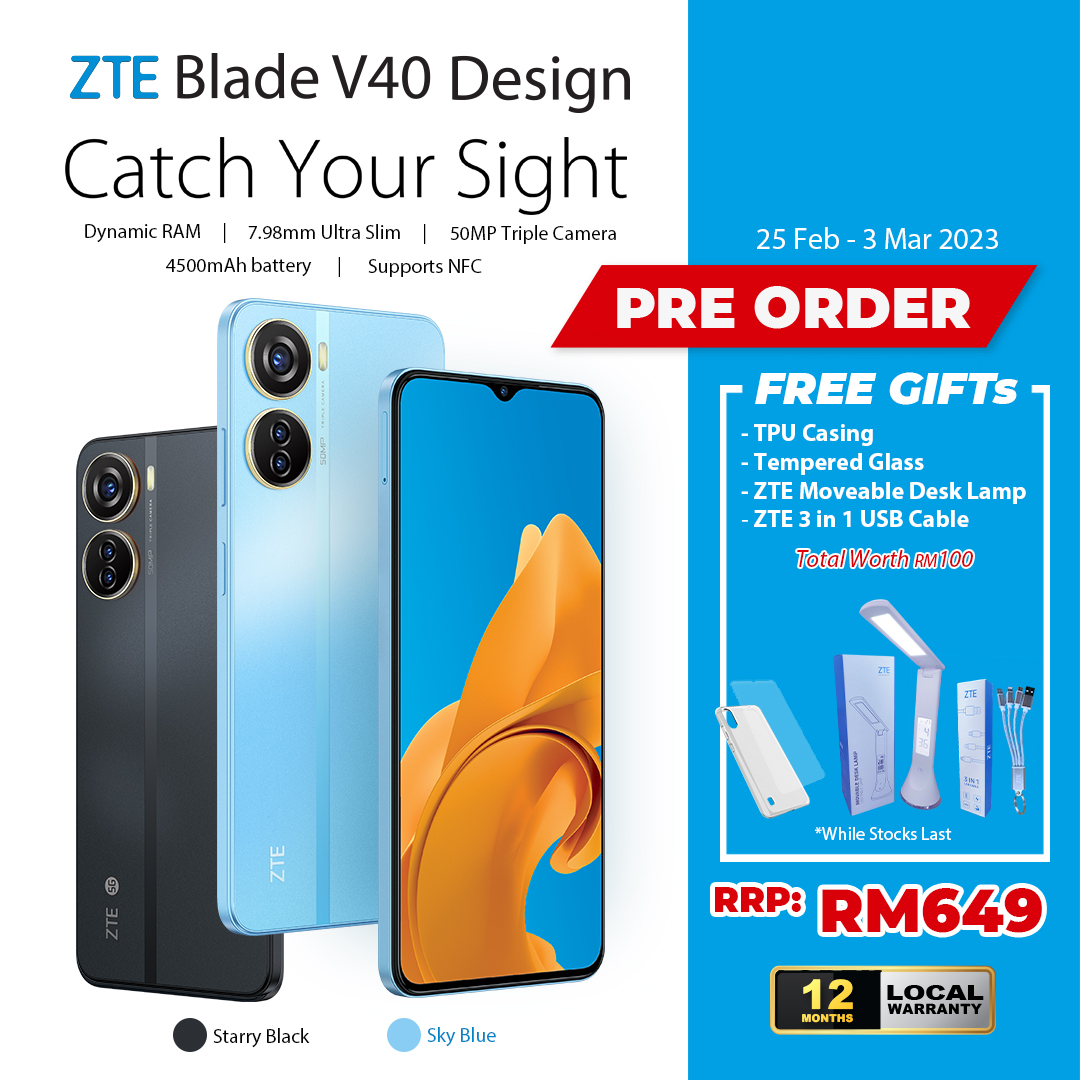 The ZTE Blade V40 Design is available for purchase on ZTE Malaysia's Shopee and Lazada Official Stores.