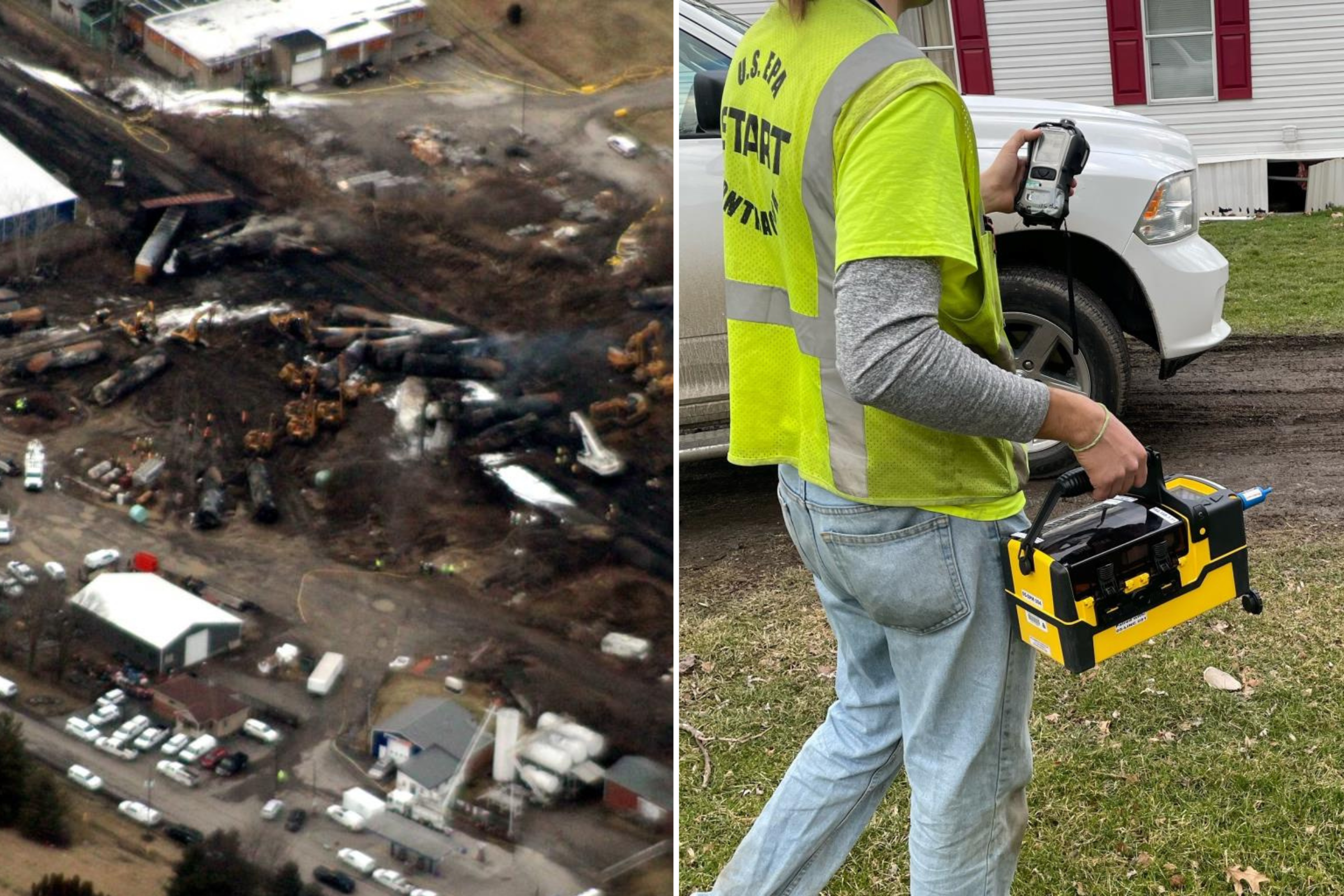 Warning: Undefined array key "src" in /home/u135054751/domains/newscharotar.com/public_html/wp-content/plugins/featured-image-from-url/includes/thumbnail.php on line 124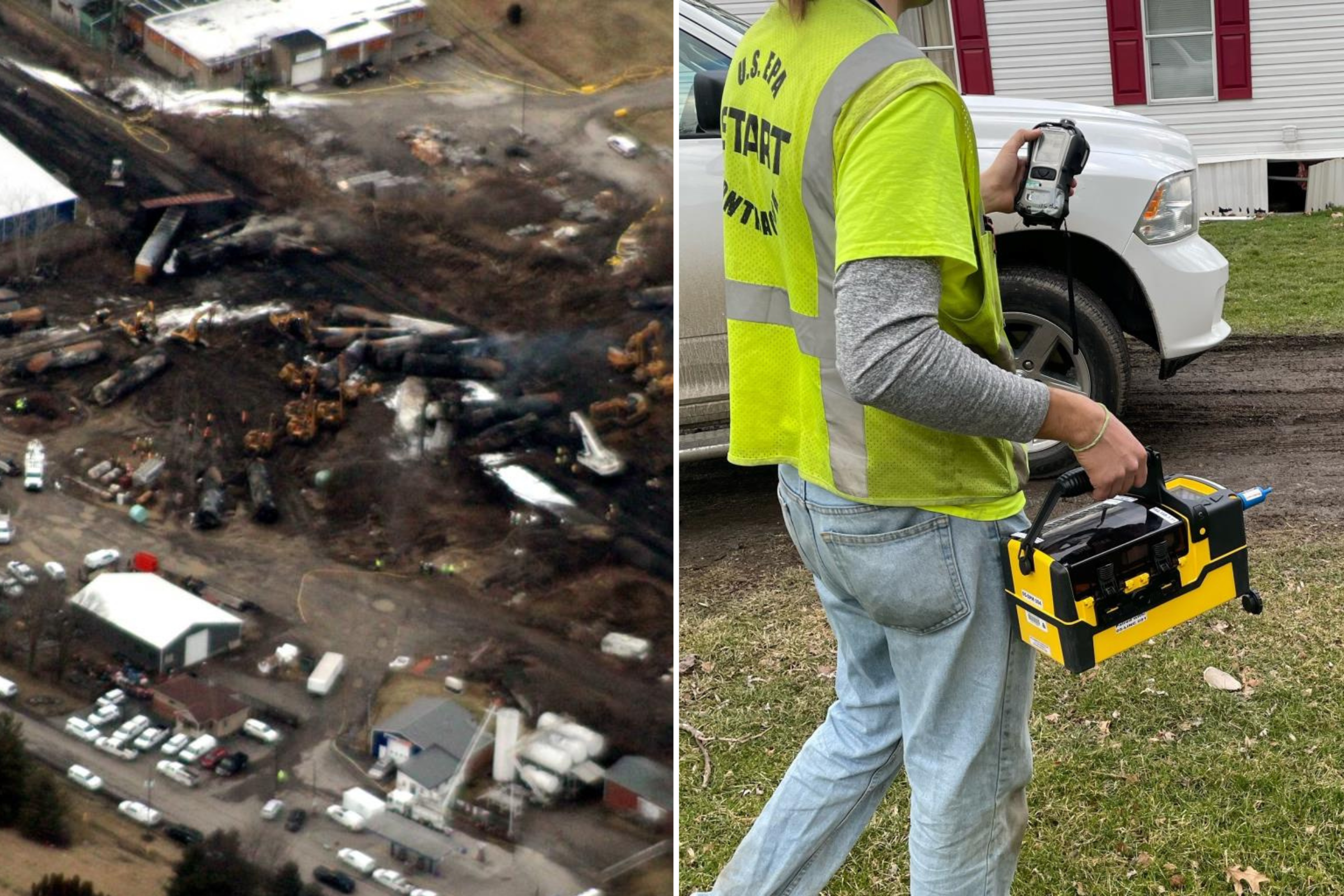 Since the derailment of a cargo train near East Palestine, Ohio, on February 3, Environmental Protection Agency (EPA) monitoring has found toxic chemicals in the air, water and soil surrounding the crash site.
Fish have turned up dead in streams, pets have died, and residents have reported experiencing symptoms associated with exposure to toxic chemicals. Many people fear the true scale of the environmental effects has yet to be identified, despite being told on February 8 it was safe to return to their homes.
Experts said that that how long the ecological impacts of the spill last depends on the speed and effectiveness of the clean-up operation, as well as the weather.
The derailment of a train of about 150 cars, 20 of which carries hazardous material, caused a large fire. To avoid a massive explosion, five rail cars carrying vinyl chloride were breached by emergency responders, the chemical diverted into a trench and burned off.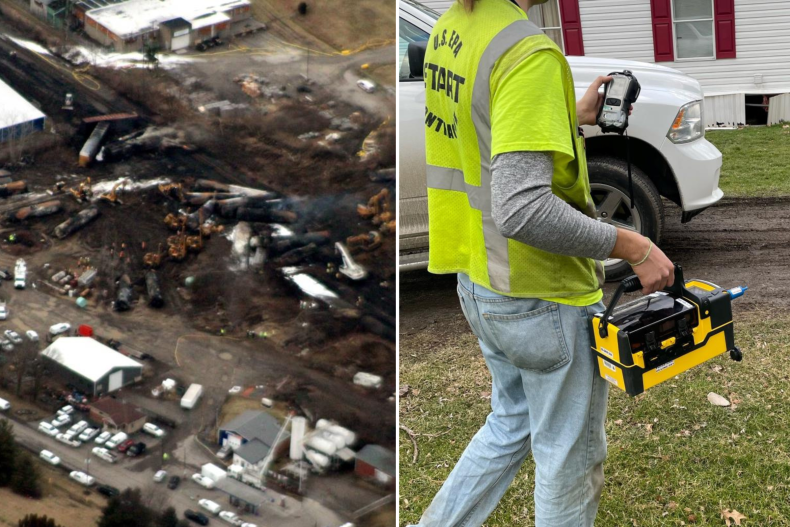 At the time, officials warned this would send toxic gases phosgene and hydrogen chloride into the atmosphere and ordered an evacuation of the area in Ohio and Pennsylvania.
Marc Glass, principal environmental consultant at Downstream Strategies, who has advised state and federal projects on contamination in West Virginia, told Newsweek that the gases "are very volatile, so they wouldn't be in the air very long" but added: "Phosgene is a very toxic gas and when it is in the air, exposure to it sometimes doesn't show up immediately."
Officials said when announcing the end of the evacuation order that the levels of toxic gases were at safe levels, even when registered at the crash site. Ohio Governor Mike DeWine described air quality readings as "basically similar to what they would have expected prior to the train wreck."
Local residents, however, have complained of headaches, burning eyes and noses, as well as sore throats.
"Every time we go home, our house has wreaked of chemicals," Kasie Locke, an East Palestine resident who left with her young family for North Lima, told Newsweek.
When they return home, their eyes and nostrils begin to burn and their throats become numb. When they go home, it is without their newborn "because we're terrified to expose our 7-week-old to anything."
In a Facebook post on Sunday, Von Schwarz Doberman Kennel in Darlington, Pennsylvania, said that when kennel workers returned for supplies after the controlled burn, within 20 minutes "we had horrible headaches, runny noses, burning and swollen eyes, pulsations within the eye sockets, itchy throat, and coughing."
Newsweek reached out to DeWine's office for comment.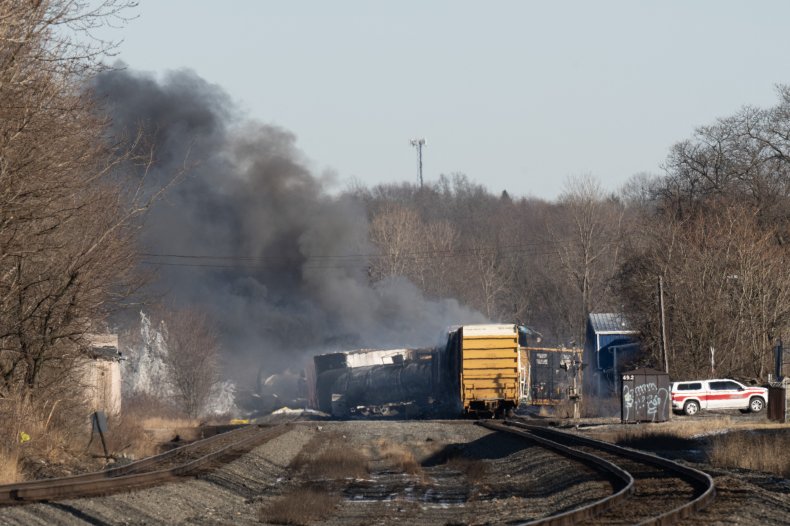 In a February 10 letter from the EPA to the Norfolk Southern Railway Company, the federal agency said it had identified four toxic chemicals around the crash site: vinyl chloride, butyl acrylate, ethylhexyl acrylate and ethylene glycol monobutyl.
"The odor thresholds for some of these compounds might even be at levels lower than when health effects are observed, but those can be irritating or uncomfortable—and in combination multiple chemicals might present more of an irritation effect than one alone," Glass said.
Chemicals in the soil could remain there "for long periods of time," seeping into the groundwater, he noted, but would also continue to volatilize—i.e. become a vapor—leading to further air contamination beyond the initial controlled burn.
"Long term, as organic compounds, those will tend to continue to volatilize in relation to temperature—higher temperatures equal a faster rate of volatilization and colder temperatures generally equal lower rates of volatilization," Glass explained.
As the crash occurred in winter, the rate of volatilization, or off-gassing, would be slower but less intense than if it was warmer.
EPA staff and contractors for the Norfolk Southern Railway Company have begun a clean-up operation, removing contaminated soil from the crash site and monitoring toxicity levels of nearby waterways. This would prevent further contamination of soil and groundwater but also prevent the off-gassing into the atmosphere.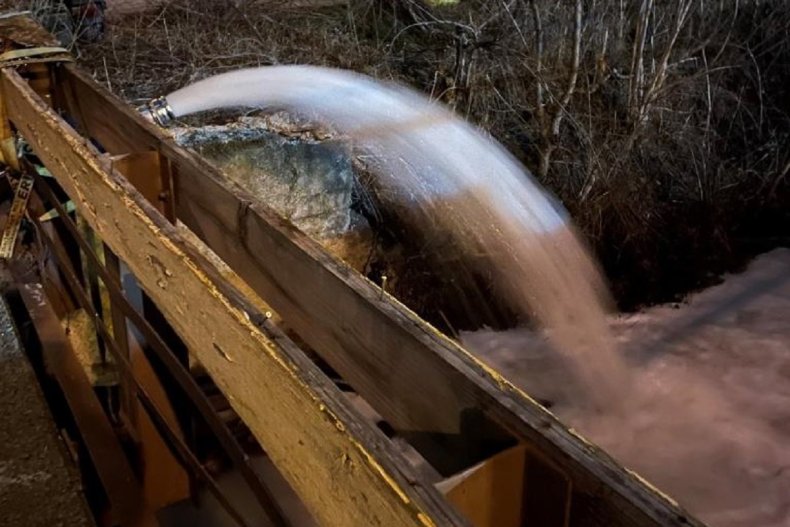 The Ohio EPA said that toxic material entered the nearby Sulphur Run waterway. The U.S. EPA said on Friday that Norfolk Southern contractors had installed a dam and a water bypass to prevent further contamination, and had also stopped the remaining spilled chemicals entering the stream.
Contractors have also been conducting monitoring of drinking water and testing the water in private wells. Monitoring of water toxicity was also taking place in Lesley Run, Little Beaver Creek and the Ohio River to Cincinnati, officials said.
Glass said this monitoring was "probably one of the most important things to make sure that there isn't contamination" and that if there is, "they can stop exposure to it by limiting people's direct contact through drinking or bathing or swimming or anything like that."
Vinyl chloride is highly toxic even at low levels, he noted, but said its toxicity and carcinogenicity was usually associated with longer-term exposure. The water was also likely to carry the contaminants away.
"Waterways inherently flow," Glass said. "So those effects that are directly in the water would go down relatively quickly, in a matter of days, from when a source stops." The presence of dead fish in the water would subside soon after the source of the contamination was removed, he predicted.
"Yes, there were detections, but again, they remained at safe levels," Kirk Kollar of the Ohio EPA said on February 8. "The toxicity of the material that entered the waterway wasn't an acute and immediate effect to the wildlife."
Newsweek reached out to the EPA for further comment.