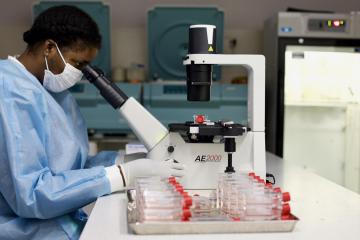 Warning: Undefined array key "src" in /home/u135054751/domains/newscharotar.com/public_html/wp-content/plugins/featured-image-from-url/includes/thumbnail.php on line 124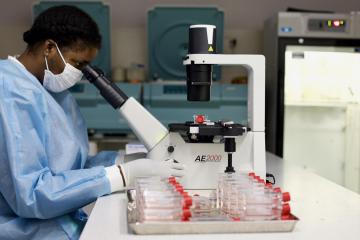 Brazzaville/Bujumbura – Health authorities in Burundi today declared an outbreak of circulating poliovirus type 2 (CVDPV 2) after confirming eight polioviruses, the first such detection in more than three decades.
The cases were confirmed in a four-year-old child in Isale district in western Burundi who had not received any polio vaccination, as well as in two other children who were contacts of the four-year-old boy. Additionally, five samples from environmental surveillance of wastewater confirmed the presence of the circulating poliovirus type 2.
"The detection of the circulating poliovirus type 2 shows the effectiveness of the country's disease surveillance. Polio is highly infectious and timely action is critical in protecting children through effective vaccination," said Dr Matshidiso Moeti, World Health Organization (WHO) Regional Director for Africa. "We are supporting the national efforts to ramp up polio vaccination to ensure that no child is missed and faces no risk of polio's debilitating impact."
The Burundian government—which has declared the detection of the virus a national public health emergency—plans to implement a vaccination campaign to combat polio in the coming weeks, aiming at protecting all eligible children (aged 0‒7 years old) against the virus.
The health authorities, with support from WHO and the Global Polio Eradication Initiative (GPEI) partners, have also embarked on further epidemiological investigations, including risk assessments to determine the extent of the outbreak. Burundi is further bolstering polio surveillance, with WHO experts in the field supporting additional sample collection as well as assessing the possibility of opening of new environmental surveillance sites for early detection of silently circulating poliovirus.
Circulating poliovirus type 2 is the most prevalent form of polio in Africa and outbreaks of this type of poliovirus are the highest reported in the region, with more than 400 cases reported in 14 countries in 2022. Circulating poliovirus type 2 infection can occur when the weakened strain of the virus contained in the oral polio vaccine circulates among under-immunized populations for long periods.
Acute flaccid paralysis is defined by the acute onset of weakness or paralysis with reduced muscle tone in children. There are many infectious and non-infectious causes of acute flaccid paralysis. Polio is one cause of acute flaccid paralysis. Its early detection is critical in containing a potential outbreak.
---
Note to editors:
The Global Polio Eradication Initiative is a partnership that aims to consign polio to the history books. It is led by national governments with five partners—the World Health Organization (WHO), Rotary International, the US Centers for Disease Control and Prevention (CDC), the United Nations Children's Fund (UNICEF), the Bill & Melinda Gates Foundation and Gavi, the Vaccine Alliance. Since the GPEI was founded, polio cases have fallen worldwide by over 99%. Failure to eradicate polio however will lead to a global resurgence of the disease. Within ten years, 200 000 new cases could occur every single year, all over the world. That is why it is critically urgent to complete the job of polio eradication once and for all.